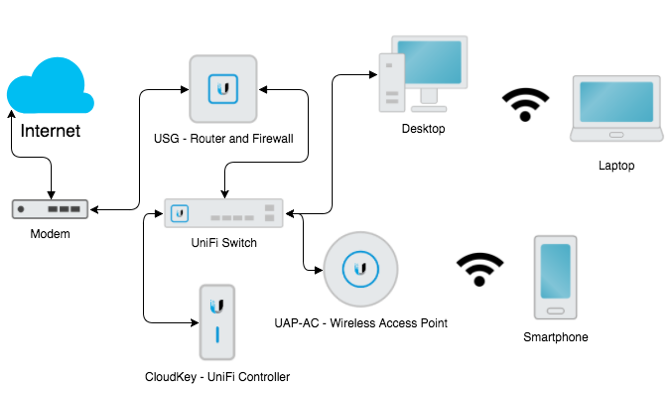 This article will be the first in a series of 3 blogs on Ubiquiti and UniFi and how a business installation of this can aid your business. We work out of 3 locations in England, one of them being London with a very varied client base. In fact, Steve spent his Sunday there last weekend getting a hipster coffee shop in Central London back online!
Wi-Fi has become absolutely essential for everyday network needs in both a consumer and business sense. It's useful for it's convenience but occasionally very irritating as well, usually when it doesn't give the functionality that is required.
The standard consumer devices are fine if you're only running a few devices in your home, and you have little to no interference from neighbours. Particularly in a business environment, there can be issues and conflicting devices that make things tricky.
The solution may just be Ubiquiti UniFi.
The Benefits of Ubiquiti UniFi
The market for devices is varied with differing prices, but Ubiquiti UniFi have a place in the market with plenty of devices to choose from.
They can cover wider areas, are capable of being customised to meet individual business needs, and thus are a little more expensive than your standard consumer hardware.
The diagram below demonstrates the typical home.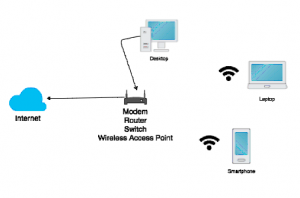 Generally, this type of consumer will have one device to do various jobs in a small home network (modem, router, switch, and WAP).
In the home this is absolutely fine, and will likely work well over just a few devices, however in a larger building with multiple floors and more network traffic, a one-man-band of this nature isn't going to cut it.
The next diagram illustrates how a Ubiquiti UniFi can solve problems for a larger network, by dividing the above roles into several devices.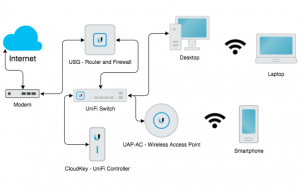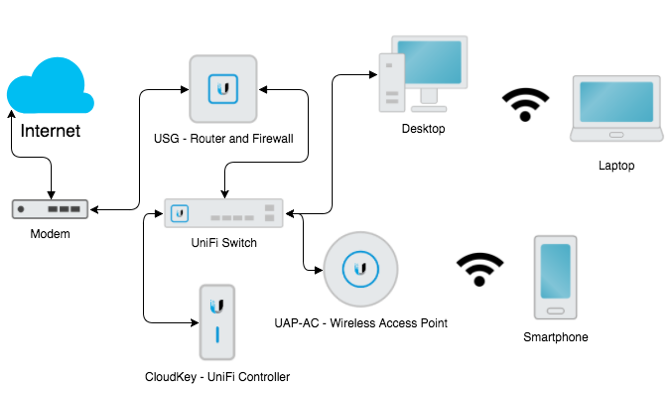 This enables it to cover a wider area and prevent faults from happening.
We've spoken about access points in previous blogs; by having more than one around a large network, should one stop working it means only that point will need replacing without impacting the entire network.
In our next blog on this subject, we'll be looking at how these elements all fit together.
But in the meantime, if this has caught your interest and you're keen to find out how using Ubiquiti UniFi could help your business, get in contact with our London Wi-Fi Experts and find out how we could help with your installation.
If you need assistance installing, fixing, extending or hiring business Wi-Fi networks in London, our team of are here to support you. You can email info@geekabit.co.uk or call 0203 322 2443.
With thanks to https://www.makeuseof.com/tag/ubiquiti-unifi-wifi-explained/ for the images. Find out more there.