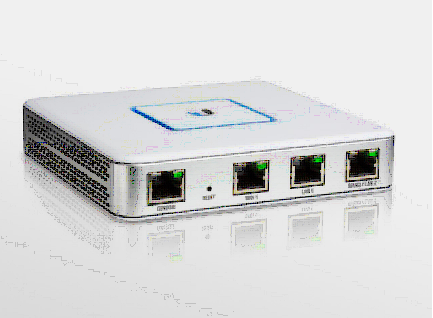 This is our third and final blog in our Ubiquiti UniFi series. We've looked at what it is, as well as what the brains are behind Ubiquiti UniFi are – This time we'll see the other elements to it are.
We have dedicated Wi-Fi experts working out of 3 locations across England, one of them being Cardiff in Wales, with a very varied client base. If this article gets you thinking that you could do with Ubiquiti UniFi for your business, our contact details can be found at the end of this blog.
So last week it was brains, this week it starts with the bread and butter…
The UAP-AC Range
UAP AC Range is Ubiquiti UniFi's setup's bread and butter. They might look like a UFO but don't worry, it's not aliens invading our hotels, universities and conference centres – It's just a Ubiquiti UniFi invasion for the better connected business.
If you're able to run a network cable to each of your devices, then this is the UFO, I mean device, for you. INn an ideal world, you would get best results from the following…
To stop bottlenecks and low latency, any device that is connecting to your network would need to have the least amount of 'hops' before it gets to the internet.
This is what the UAP ACs do. There is also various devices which cater to different needs. These include factors such as range, throughput, and bandwidth.
The four main devices in the UAP-AC Range are as follows:
UAP-AC-Lite: Compact
UAP-AC-LR: Long range
UAP-AC-Pro: More throughput
UAP-AC-HD: Most throughput, MU-MIMO
If you're not able to run cables to each of your devices, then Ubiquiti UniFi Mesh may be able to help you.

Ubiquiti UniFi Mesh
If you need Wi-Fi in places that are tricky (or impossible) to reach with a cable, then Mesh networks are great. What's brilliant about Mesh points is that they communicate wirelessly with each other to route traffic from connected clients.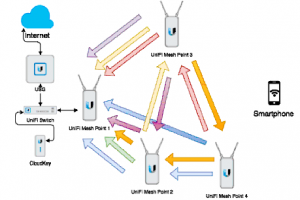 image 7
The quality of the signal affects the way that traffic is routed. If you look at the diagram above, you'll see that there a few mesh point options for the smartphone to connect to.
So there's either Mesh Point 3 or Mesh Point 4. You might say that the smartphone is closer to Mesh Point 4, however, it actually has an additional hop to make before it can get to the internet and you want as few hops as possible.
In blog 2 we talked about the brains of the operation – The controller. The type of logic that decides which mesh point is best is just what the controller will handle for you.
Performance takes a hit for every hop that's made. If running a cable really isn't possible then the issue is solved with UniFi Mesh.
Unified Security Gateway (USG)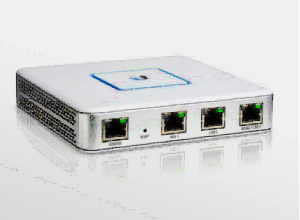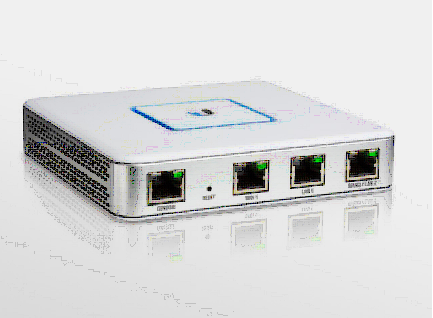 Looking less like a UFO and more like a familiar piece of internet kit is the Unified Service Gateway. While it looks like your conventional router, the USG does all of that and then some.
This devices functionality includes:
DHCP
QoS
VPN
Firewall
Deep Packet Inspection
WAN Failover
You can either use your own router alongside UniFi, or you can cmoplete the Ubiquiti UniFi family and use the USG to let you manage all of the above through the UniFi Controller interface. Despite it being a modular system, you can control all of your devices through one single interface.
Deep Packet Inspection (DPI)
Also worth looking at, especially for your network administrator's sanity, is the DPI. This can provide loads of information about your network. It examines data coming through your network and can even help in the detection of spam or viruses.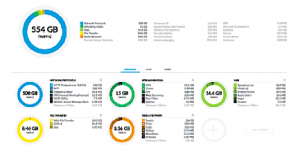 You can access the information via app, protocol or on a per-user basis. This kind of information can be invaluable, especially in shaping your network.
This enables a much better user experience overall. An example of this in action would be if you got people complaining that there was a slow network – Your netwok administrator could look at the DPI statistics and see where the most traffic is.
Conclusion
Over the 3 blogs, we've covered a lot on Ubiquiti UniFi and the many benefits it could provide for your business and network.
As with everything in life, it's not perfect but really the main con would just be how complicated it can be to set up (although with organisations like us here at Geekabit, this can be done for you!).
The benefits more than outweigh the cons:
They are scalable, stable and customizable
Ubiquiti have a demo site where you can view all of the controller functionality
There are a wealth of resources and support should you need it, via Ubiquiti forums and Ubiquiti subreddit
Ubiquiti UniFi also has integrated products that can all work together like cameras and VoIP phones.
If this has caught your interest and you're keen to find out how using Ubiquiti UniFi could help you, get in contact with our Cardiff based Wi-Fi Experts and find out how we could help with your installation.
If you need assistance installing, fixing, extending or hiring business Wi-Fi networks in or around Cardiff, our team are here to support you. You can email info@geekabit.co.uk or call 02920 676712.
With thanks to https://www.makeuseof.com/tag/ubiquiti-unifi-wifi-explained/ for the images. Find out more there.