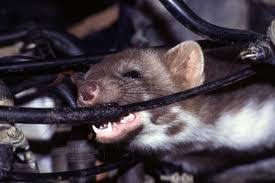 When you get home from a lovely week away, ready to catch up with emails and get back to work only to find that your internet is out… Nightmare!
We went to Devon for a week, which was lovely. In-keeping with our digital detox from the other week, our beautiful little countryside cottage had awful Wi-Fi which nudged me in the direction of avoiding social media, which turned out to be rather refreshing.
However, once home, I was keen to get back online – Yes to share a few photos, but also to get back in the zone of work before Monday arrived.
So I switched on my laptop, connected to the router, but no web pages were opening. The Slack app wasn't letting me read my messages on my phone. No online video streaming on the TV to distract the kids!
What was going on?
I sent a text to both my neighbours – One was fine, but the other had had no phone line or broadband earlier in the week either.
Time to contact our broadband provider. After a few text messages, it transpired there was a fault on our line and they would have to send an engineer out. This would hopefully be within 72 hours but could take up to 5 days. Of course, this was Friday afternoon, and of course, the 72 hours doesn't include the weekend. Time to text the boss.
Thankfully the engineer arrived on Monday morning and fixed the issue.
And the problem? Rats! Apparently rats had gnawed through the cables and they had to be replaced.
I work from home most of the time so it's pretty important that I have a reliable internet connection. Didn't think I'd be getting back from holiday and straight away having to tell the boss that I couldn't get online because of rats chewing cables. It's a bit "The dog ate my homework, miss" isn't it?!
Anyone else had a rodent related outage? What's the worst reason for bad Wi-Fi you've heard? Or used?? We'd love to hear them.
Here at Geekabit, we can't control rats getting in to external cabling, but we can do a lot of other things to help improve your Wi-Fi. Check out our website and see what we can do for you and your business.
https://geekabit.co.uk/what-we-do/
You can also contact us on any of the below; We serve clients across Europe from our offices based in Hampshire and London.
Contact us: London 0203 322 2443 | Cardiff: 02920 676 712 | Winchester: 01962 657 390 | info@geekabit.co.uk
With thanks to http://rodrepel.com/blog/blog/outages-due-to-rodents for the image.