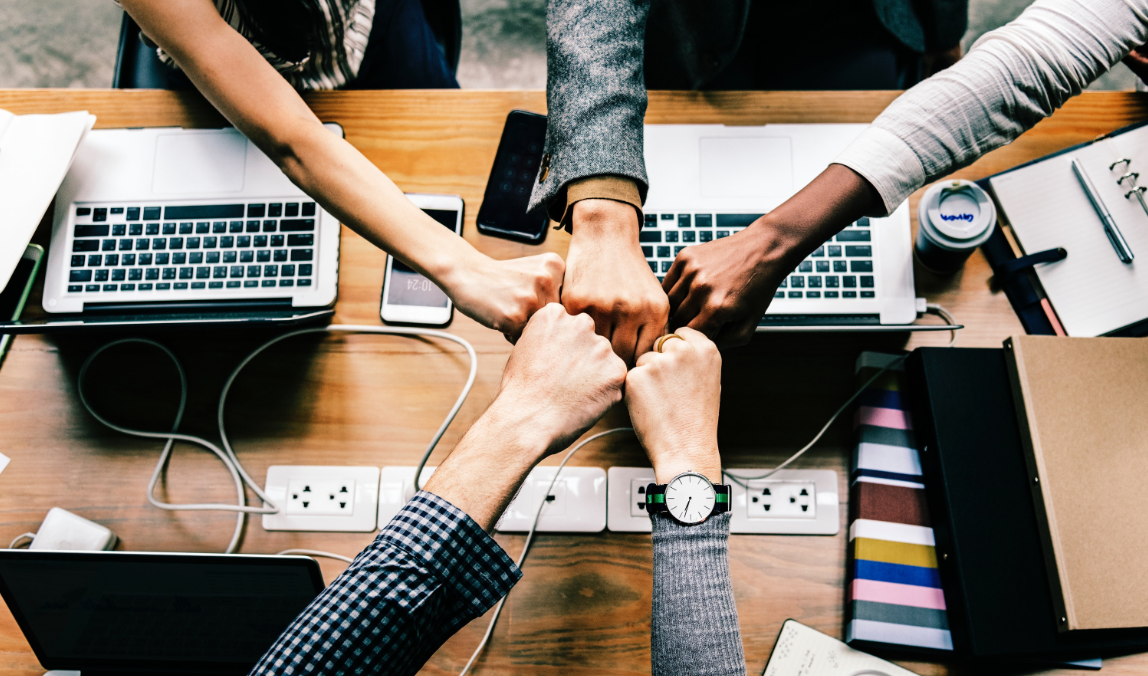 Home Wi-Fi set ups and business Wi-Fi set ups are very different, particularly if your business has a large office with heavy traffic.
At home, you can pretty much plug in a router and go, and you shouldn't encounter many problems. But it's not quite as simple for office environments. For the smaller business space, a router and range extenders might do the job, but for other, larger offices with more people accessing Wi-Fi, you typically be needing to utilise access points.
Here we'll be taking a look at the features of both so you can see which the best Wi-Fi solution for your business would be.
What is an Access Point?
An access point is a nifty little device that enables you to connect an area of the business, e.g. Reception, to the Wi-Fi even if the router is out of range. Via an ethernet cable, the access point connects to a wired router, switch or hub, and can then project a Wi-Fi signal to your designated area, in this case Reception. In an office or large building, access points create a Wireless Local Area Network (WLAN).
What is a Range Extender?
At the start we mentioned range extenders. So what are they? Well, the clue is in the name. They quite literally lengthen the range of an existing Wi-Fi network. Unlike access points, range extenders connect to the router wirelessly, so rather than being able to be placed in the actual dead spot, they need to be placed still in range of the router. A situation where you might use this is in a multi-storey building. If your router is in the basement, then the range might extend to the first floor but not the second, so you could put a range extender on the first floor where there is still a connection, to lengthen the range to reach the second floor as well. .
Which is Better for Businesses?
While a range extenders might sound like a great solution to your Wi-Fi woes and easy to set up, they are only great for home Wi-Fi networks rather than offices. Unfortunately, their efficiency in a modern business environment is very low due to only being able to support up to 20 devices at one time. With employees generally carrying 3+ wireless devices on their person at any given time, it's easy to see how in a business environment the network can quickly become saturated. A range extender might extend the range of a Wi-Fi router, but it doesn't increase it's bandwidth so could actually end up weighing down your connection if too many devices are attempting to connect simultaneously.
In contrast, access points are a much better option for business environments and large offices. Each access point is able to support 60+ simultaneous connections each, and because you can install them throughout the building, your Wi-Fi users can freely roam the building without passing through any dead spots and thus not having their connection interrupted. Devices are able to connect to access points seamlessly without dropping a connection between each one, so no connection disruptions.
With internet an increasingly important tool for businesses, in many cases vital for business operations, it is really worth investing in a well design Wi-Fi network for your business and access points are definitely the best option.
Wireless Access Points – The Advantages
As we've just explained, a Wireless Network that can only support up to 20 devices can quickly become saturated – If every employee has 4 devices (e.g. desktop, laptop, smartphone and tablet) then after just 5 employees in your office, you're potentially going to start running into difficulties. Access points being able to support 60 simultaneous connections each is a huge advantage, but that's not the only reason why they could benefit your business. Other ways access points can enhance your business network:
Thinking about how they would be installed? If you use a business-grade access point, then they can be installed anywhere you can run an Ethernet cable to. With newer models you can also avoid having to install a power outlet or running a power line as they are compatible with Power over Ethernet Plus (PoE+) which is a cord combo of Ethernet and power
Worried about security and guest access? There are additional standard features including Captive Portal and Access Control List (ACL) support which mean that you can limit guest access and manage users within your Wi-Fi network without compromising on security.
Wondering how multiple access points could be easily managed? There are some access points that include a Clustering feature. This enables an IT Administrator to view, configure, deploy and secure an entire Wi-Fi network from a single point rather than single, separate access point configurations.
If you're sat there thinking that access points could be the solution to your business Wi-Fi needs, then give on of our Wi-Fi experts a call here at Geekabit. We work out of London, Cardiff and Hampshire and our engineers are ready to get your Wi-Fi network surveyed, designed and installed. You can get in touch with us here:
London: 0203 322 2443
Cardiff: 02920 676712
Hampshire: 01962 657 390