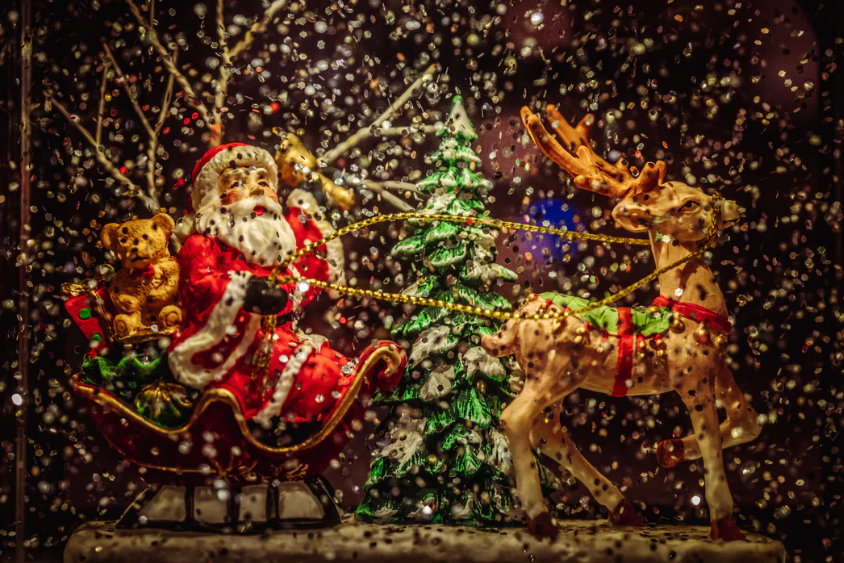 You may or may not know that we recently opened up our Wi-Fi expertise to homes as well as businesses, but we were very surprised to get a call out to the North Pole this week to take a look at Santa's Sleigh.
Okay, not quite the North Pole… More like Winchester. And while the big man in red himself was rather elusive when we visited, we did still get to grips with his sleigh and get it set up with 4G ready for the festive season.
Every year Winchester Round Table take Santa and his sleigh on a tour of the estates surrounding the city centre to spread festive cheer to all and raise vital funds for charitable causes from all over the city.
You might remember that we helped out with Winchester Round Table's big firework event last month, and were more than happy to team up with them again to help get their sleigh ready for its first outing tonight.
Beginning life as an old milk float from Leicester, Winchester Santa Sleigh was the brainchild of some of the guys (or should we say elves) at Winchester Round Table. They upcycled it and with a bit of help from local companies, 6 months later it was made into the sleigh it is today.
Instead of delivering milk, it now transports Father Christmas around the city of Winchester throughout the festive season, spreading cheer and raising money for many local charitable causes. It's a wonderful community project, with volunteers from all over the city and the local children get so excited when they hear him coming down their street.
But why does Santa's sleigh need 4G we hear you ask?
Well, our Wi-Fi experts came to the rescue to update Santa's sleigh with the latest 4G technology for 2 main reasons.
The Santa Tracker
As you can imagine, families from all over Winchester are desperate to know whereabouts Santa is and when he'll be going past their house. Giving the sleigh 4G means that it can be tracked and it's location updated every 5 minutes on the website, making everyone aware of when he leaves the North Pole and which road he's currently on. The tracker has proved hugely popular and is a great addition to the sleigh.
Mobile Payment Technology
As we've mentioned, Winchester Santa Sleigh is not only an opportunity to spread festive cheer but also to raise money for local charities.    As Santa makes his way around the roads of Winchester, his elves are busy knocking on doors letting them know that Santa is coming. These elves have charity buckets to take any donations that people may wish to make, and new for this year they will be utilising the 4G from the sleigh to enable mobile payment technology.
As we all well know we are quickly becoming a cashless society, so using iZettle's repeat payment feature on an iPhone, WRT, Santa and his elves will be able to take card payments for the first time. This means that they will be able to take donations via card as well as using the traditional bucket shaking method.
We're now feeling ever so festive – You just never know where you'll be setting up mobile internet next!
For more information on Winchester Santa Sleigh, head to their website https://www.winchestersantasleigh.co.uk/ and look out for Santa making his first trip out in the city tonight!