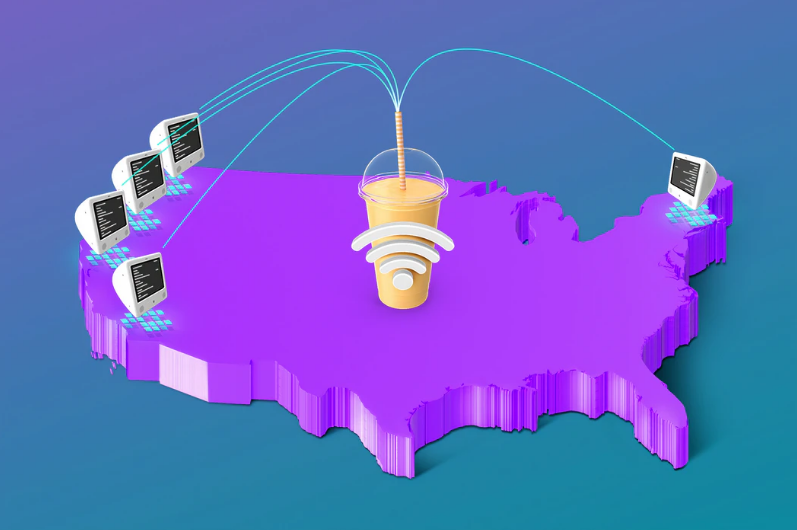 What is a Wi-Fi Survey and why do you need one?
Well, the simple answer is that it is the foundation for any professional and effective Wi-Fi installation. It takes an expert in the Wi-Fi field to get it right, and it acts as the start of any wireless LAN design.
If you're thinking that a Wi-Fi predictive survey is something we have saved and just fire out by email to all of our prospective clients, you would be wrong.
It's not a one-size-fits-all, and is very much tailored to each unique client and their environment.
So where do we start?
The first stage in Wi-Fi design is a predictive survey.
At this stage, the walls are drawn in on the maps and the AP's (access points) are placed.
A prediction is then made via a Wi-Fi heatmap that shows the projected coverage based on the walls of your premises and the placement of the AP's. This can then be communicated to you in a report.
What's a Wi-Fi heatmap? 
A Wi-Fi Heatmap is a visual representation of the way radio frequency (RF) power is broadcasted.
The 'hottest' areas, where the Wi-Fi strength is the strongest, is seen on the map in blue. It gradually bleeds out into light green.
Wi-Fi heatmaps demonstrate how our model will allow consistent levels of RF power from each AP to the end users. There are no grey areas on the map – Any areas identified as 'grey' and therefore not receiving a consistent level of RF power would be rectified prior to presentation to the client.
One of the main outputs from a predictive survey is a Wi-Fi Heatmaps – They are an excellent tool for illustrating how successful our Wi-Fi design and model will be.
Once this stage is completed, you would be provided with a custom report on your individual environment, including any Wi-Fi heatmaps as well as analysis of any possible issues we might encounter.
How can we be confident that a computer model is accurate?
A pre-install survey also complements this stage by carrying out onsite tests with an AP. This enables us as the Wi-Fi designer to test the building fabric and check that our model of your environment (in the predictive survey) is going to work. If any adjustments need to be made, e.g. if some walls are thicker than others, these can then be made in the predictive model.
After both these surveys have been carried out, we can then be confident that the model is ready for installation and any cabling can be put in.
Why carry out a Wi-Fi survey with Geekabit?
Here at Geekabit, our Wi-Fi experts and engineers have the experience and knowledge to identify the needs of your wireless network and design the best option to meet them.
Every network and environment is different – Knowledge, expertise and experience is necessary to identify any issues on site and design a wireless network that will be reliable and effective.
We are meticulous and methodical in our approach, ensuring that our design and model will meet your needs and satisfy end users.
We don't advertise our services and rely on word of mouth. This means we will always go above and beyond to make sure our clients are happy.
If your Wi-Fi isn't currently up to scratch then a Wi-Fi survey might be your best option and prove a worthy investment. The only way to ensure a reliable wireless network that supports your business operations is to design it to your unique specification.
You might be wondering why you can't just get a copy of the design software and design it yourself. If you have the knowledge and expertise that might well be an option, however as you've landed on this blog asking why you need a Wi-Fi site survey then it may be a fair estimate that you'd be better off leaving it to the experts.
It's not just about inputting information into a computer and getting the perfect model out. A we said above, the predictive survey is best done alongside the pre-install survey where this model is tested and if needed, refined. These surveys together ensure that a computer model will work in the real world.
Want to call in the experts for your Wi-Fi survey?
You've come to the right place. Here at Geekabit our Wi-Fi experts have the knowledge and experience to help you to design your Wi-Fi network for the best coverage possible.
Don't put up with sub-par Wi-Fi any longer and get in touch today.