The International Data Corporation (IDC) Worldwide Quarterly Wireless LAN Tracker has reported that between the first quarter of 2022 and Q1 of 2023, the Enterprise Wi-Fi market has grown by 43%.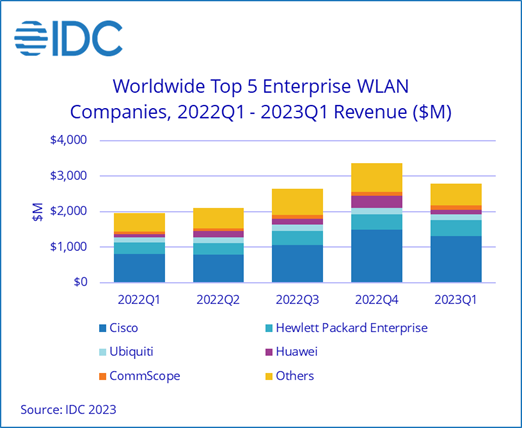 What's Behind the Growth of the Enterprise WLAN Market?
The driving force behind the Enterprise WLAN market growth is in part down to the easing of component shortages.
There has also been a significant demand for the upgrades and expansions that come with Wi-Fi 6 and Wi-Fi 6E.
You can find further details on this in IDC's latest market report.
Wi-Fi Market Back With a Vengeance
Previously, the right business to be in might have been as a service provider or consumer Wi-Fi. But we've come a long way since 2020, and from just last year even. The IDC reports that the consumer Wi-Fi segment has decreased by 8.8% for the quarter year-on-year.
The enterprise Wi-Fi market however is back and booming and showing itself to continue to grow year-on-year.
The IDC's recent report showed that the Enterprise Wi-Fi market grew by 43% in Q1 for 2023 (year on year). This sector is worth a huge 2.8 billion dollars.
Is the Growth of Enterprise WLAN Market Down to Wi-Fi 6?
Of the Enterprise WLAN sector revenue, Wi-Fi 6 made up 78.6%.
In addition to that, the adoption of Wi-Fi 6E is up by 14% from that last quarter of 2022. This continued growth has taken a 10.4% share of the AP market in Q1 of 2023.
Cisco Expands Market Dominance
At the end of the first quarter of 2023, Cisco continued to take their Enterprise Wi-Fi market share with 47.1%. Their revenue has risen 62.7% year on year – Their Enterprise Wi-Fi revenue for this quarter was 1.3 billion US dollars.
Also doing well in the Enterprise Wi-Fi market is HPE_Aruba (Aruba Networks). They have grown by 39.5% year on year for Q1 of 2023. The IDC reports they have a market share of 16%.
You can check out how other vendors are doing by heading to the IDC website here.