This week we're going to take a look at wireless directional antennas and how they work. By understanding this, you can ensure that your Wi-Fi network provides the coverage you need for reliable, strong Wi-Fi links.
To create a wireless bridge or point-to-point link, you would use a directional antenna. Your coverage requirements will determine the size and shape of the directional antenna needed, as well as whether you are using them inside or outdoors.
First things first – What do we need in order to establish a long-range wi-Fi link? There are a few main requirements that we need in order to achieve this.
Remote Wi-Fi Links – 3 Requirements
We need to satisfy 3 requirements in order to set up a long-range Wi-Fi link. Whether your signal is indoors or outdoors, the basic needs remain the same. For example, the signal could likely navigate and pass through a thin wall indoors, or one tree outdoors. However, navigating an entire building of walls or a forest of trees would be more difficult.
When a wireless signal is traversing over longer distances, packets of data can be lost. Adding in other complexities (like many walls or trees) can cause problems with the signal.
So in order to establish and maintain a strong connection over a long distance we need to fulfil these 3 requirements:
There must be a direct line of sight between the antenna and the receiver. This means no obstacles in the way, like buildings, walls or forests.
The antenna must be elevated and be horizontal with the point that is receiving the signal ready to transmit it. For the connection to be strong, the antenna and the router for example, need to be on a level – Not one higher or lower than the other.
The antenna must be directed towards the router or Wi-Fi transmitter. The directional antennas only emit and receive Wi-Fi signal in one single direction, so it needs to be positioned on that side. The accuracy needed for the position depends on the angle opening on the antenna. For example, the smaller the angle, the more accurate the position must be. More on that next!
Antenna Angles
How far a directional antenna can transmit a Wi-Fi signal depends partly on the size of its angle. For example, a directional antenna with a wide angle could transmit to a wider area around it, but not as long a range. A directional antenna with a small angle is a more focused transmission and will provide further coverage.
A good analogy to explain this is a light bulb. A bulb without a lampshade will emit light at an angle of 360 degrees. It works well to illuminate the area in close proximity, but doesn't have great range in terms of distance. For example, lighting up one room.
In comparison, a bulb inside a torch operates at an angle of approximately 30 degrees. The light is much more directed, and thus has a further coverage range – But we don't see light outside of the 'sides'. The smaller the angle, the further the reach.
The same premise applies to wireless signal and directional antennas, as you can see from the diagram below.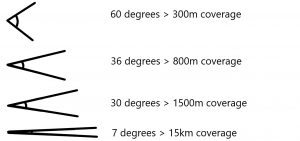 Types of Wireless Directional Antenna and Their Uses
There are 4 main models of directional Wi-Fi antennas. They are designed to provide a Wi-Fi connection over long distances. They direct an entire frequency pattern in one direction to reach from point-to-point. A directional antenna receives the Wi-Fi signal and emits it forward; the distance it can cover depends on the angle it uses.
Wireless Directional Antenna for Indoor Use – The 60° angle antenna

A wireless directional antenna with an opening angle of 60 degrees is most practical for indoor use. The open angle of this directional antenna enables it to see all the Wi-Fi networks in it's environment. It provides good quality signal over a range of up to approximately 300m.

Wireless Directional Antenna for Long-Range outdoor Use – the 35° angle antenna

This wireless directional antenna uses an opening angle of 35° which enables it to locate all the AP's in a mesh Wi-Fi network outside the premises, covering a distance of up to around 800m. For this reason, it's commonly used for long range networks. They are generally easy to install, are a manageable size and tend to come weatherproof so they can be used outdoors come rain or shine!

Wireless Directional Antenna for Distant Networks – the 30° angle antenna

These wireless directional antenna models have a closed angle. Their installation is a little more complex to the previous two models, and therefore is better suited to professional networks that need to cover very distant networks. Due to the closed angle, it is extremely important to get the positioning accurate.
Wireless Directional Antenna for Professional Installers – the 7° angle antenna

Due to these models of wireless directional antennas having a very narrow beam, it's necessary to have them professionally installed. They are a favourite among professional Wi-Fi installers as they have a very high gain so provide a high wireless broadband casting range. High gain antenna can provide a strong Wi-Fi connection in all parts of your property from a single router. This type of directional antenna will have a parabolic reflector – basically a curved surface like a dish which direct the radio waves. This type of wireless directional antenna is ideal for long range networks.
If all this talk about wireless antennas has got you confused about which direction to go in, then why not give our Wi-Fi experts a call?
Working out of Hampshire, London and Cardiff, we can plan, design and install a Wi-Fi network that's tailored to your home or business requirements. Get in touch with us today and we'll have you better connected in no time.