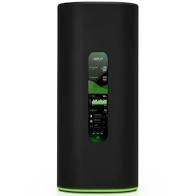 In this week's blog we're going to take a look at the new Wi-Fi 6 router from Ubiquiti – The AmpliFi Alien. With attractive performance features, this router could be great for a busy household working and learning from home as well as the intrepid gamer.
This Tri-Band Wi-Fi 6 router brings a revolutionary Wi-Fi 6 benefit into your home along with an elegant design.
What are the key features of the AmpliFi Alien?
Wi-Fi 6 compatible
It has a scalable mesh system. This is great for gamers! The Wi-Fi 6 standard Mesh system can easily cover any home, providing 4K/8K UHD streaming and online gaming to multiple users in any room
It has true Gigabit mesh
An 8×8 super antenna system
You could get up to 4 times your current network capacity (compared to an AmpliFi HD)
Boost your coverage by up to twice your current network (compared to an AmpliFi HD)
Reduce battery drain in mobile devices
It has 2.4/5 GHz Wi-Fi 6 and 5 GHz Wi-Fi 5 radios
From this single unit, they deliver a total capacity of 7685Mbps and 16 spatial streams
Build a virtually unlimited Wi-Fi capacity within your home by easily meshing multiple units over the air
It has a convenient touchscreen which displays the network status and provides instant controls
The AmpliFi Alien has a single Gigabit internet interface and internal power supply
It is integrated with a LAN switch with 4 Gigabit Ethernet ports
You can use Wi-Fi 6 for wireless connectivity and the LAN ports for local wired connectivity
It takes just one minute to set up using their easy-to-use app.
What performance features could make the AmpliFi Alien a good choice for remote working and home learning in a device heavy household?
There's a lot of households across the UK that are suddenly finding themselves in a network nightmare at home. Families where both parents are working from home, plus multiple children doing home learning lead to multiple Zoom / Microsoft Teams / Google Meet video conferences all needing to happen at the same time. And this can cause some big issues with internet and Wi-Fi. The AmpliFi Alien has some performance features would be enticing for anyone currently in this predicament.
The Ubiquiti AmpliFi Alien is optimised to provide your home network with the highest possible performance – Irrespective of how many users or devices are connected at the same time
The AmpliFI Alien can eliminate dead spots and increase the total capacity in your home network by 4 times through utilising MU-MIMO and OFDMA for communication across 12 Wi-Fi 6 spatial streams
Got a video meeting you just cannot have interrupted by lag or loss of video? The AmpliFi Alien has 5Hz radio with Wi-Fi 5 (802.11ac) speeds which you can choose to dedicate to performance critical devices
Using the above features can help you to avoid competing for bandwidth with any other devices on your home network
Sounding good, but worried you don't have the technical know-how to set something like this up?
The AmpliFi Alien comes with the AmpliFi App – A simple app that allows you to set up your network in just a minute. It's user friendly yet full of controls and statistics to enable you to configure the AmpliFi Alien for your environment.
For more information and detailed specifications on the Ubiquiti AmpliFi Alien, head to their website.
What other products are in the Ubiquiti AmpliFi range?
The AmpliFi Alien is the latest router that Ubiquiti have added to their extensive range of Wi-Fi products. You can find out more about their range of products by heading to their website, plus see real-life reviews of how Ubiquiti AmpliFi products have changed home networks for the better including all the stats.
We don't know about you, but we're pretty excited to see the AmpliFi Alien in action!