With what is likely to be the last of the hot weather for this year, Ofcom have shared the results of their summer 2023 study looking at UK fixed broadband and mobile coverage.
The study reports that Full Fibre FTTP access in the UK has risen by 4% from January 2023 to 52% coverage.
It has also found that 75% are now within reach of a gigabit-capable network, which is an increase of 2%.
In addition to this, 76-85% of premises can now get an outdoor 5G connection from at least one operator (an increase from 73-82%).
Ofcom Summer 2023 Report
This latest report from the communications regulator features data collected between May 2022 and May 2023, including that of their Spring Connected Nation's update back in January 2023.
This most recent report is based upon the coverage and service availability information from both fixed line UK Internet Service Providers and Mobile Network Operators.
Overall, the UK's coverage of fixed "superfast broadband" (30Mbps+) remains unchanged at 97%, while 15.4 million homes (52%) can now order a Fibre-to-the-Premises (FTTP) service via various networks (up from 48%).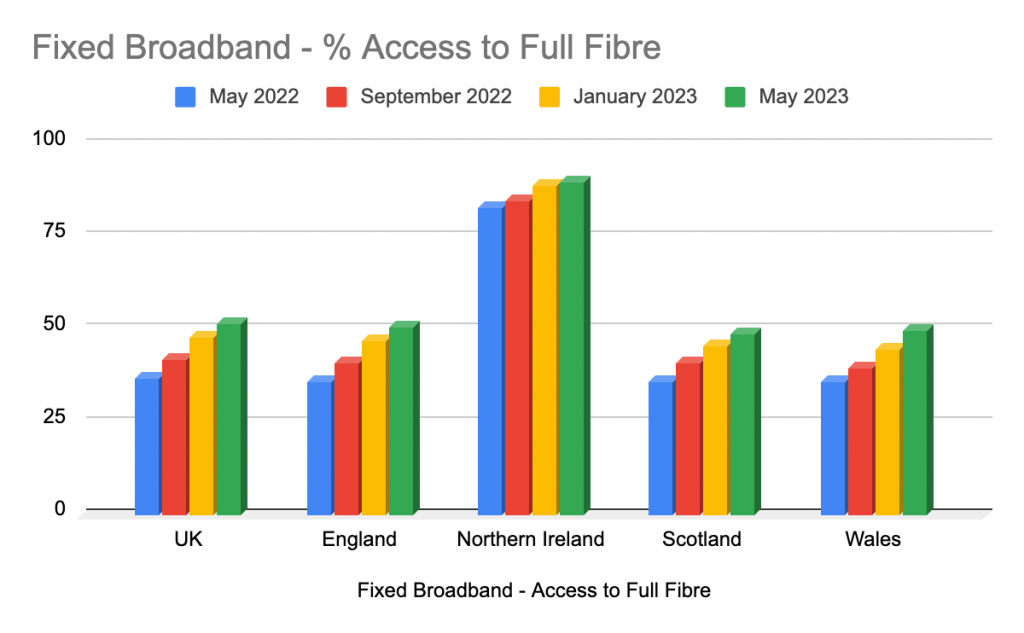 Key Figures from Ofcom Summer 2023 Report
Gigabit
75% of the UK (that's 22.4 million homes) can now access Gigabit-capable (1Gbps+) services (up from 73% or 21.9m).
This figure is higher than that for FTTP due to the majority of the gigabit connectivity coming from Virgin Media's upgrade to their existing HFC network. In dense urban areas, there is a lot of overbuild between HFC and FTTP.
What about the last 20% in the hardest to reach areas? The UK Government's £5 billion Project Gigabit programme aims to improve the above figure so that gigabit coverage is extended to at least 85% of UK premises by the end of 2025 (and 99% nationwide by 2030).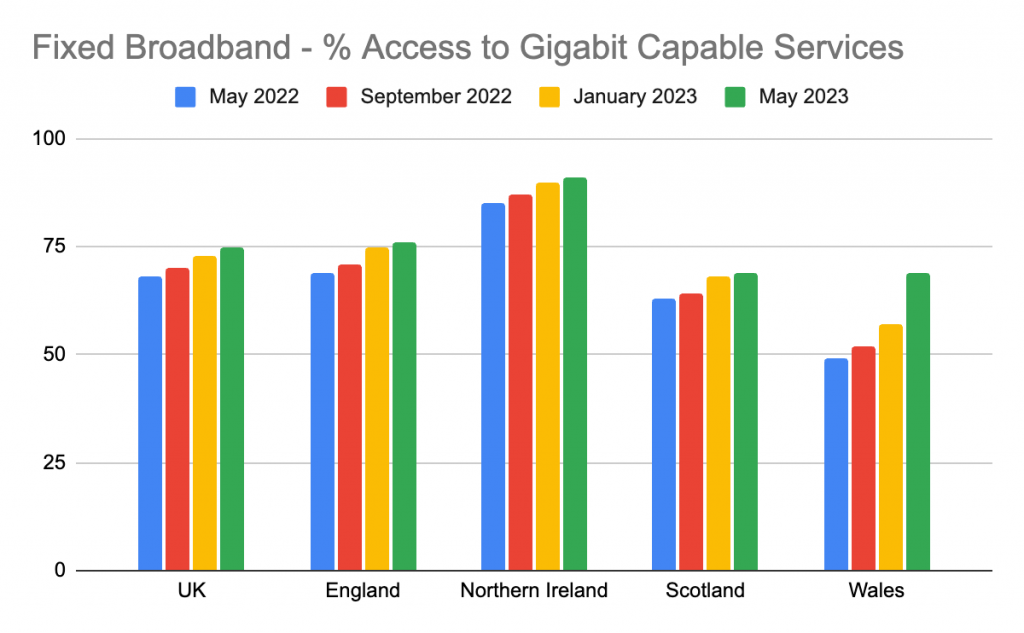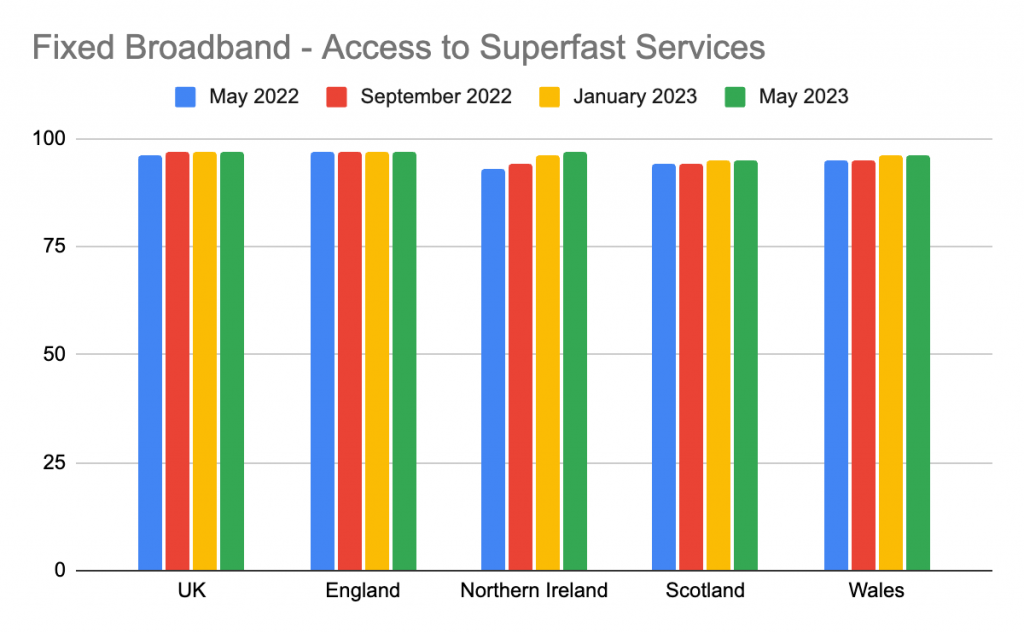 Premises Still Without 'Decent' Broadband
'Decent' broadband is based on a download speed of at least 10Mbps and 1Mbps upload. The number of premises that cannot access this is currently 428,000 which is 1.3% of the UK.
However, if you include wireless connections via 4G, 5G and Fixed Wireless Access, this number drops down to 62,000.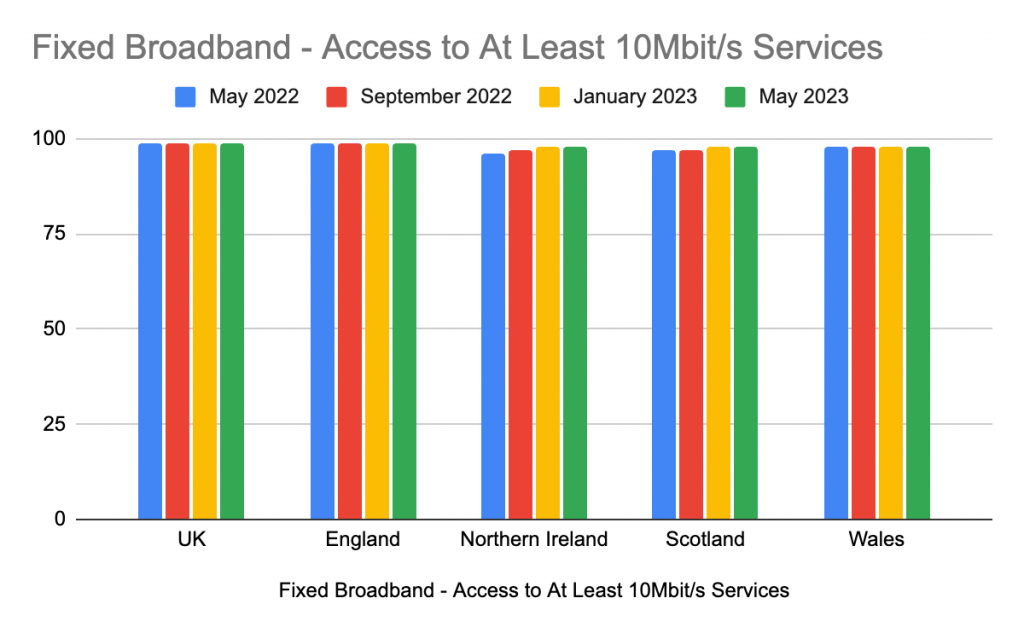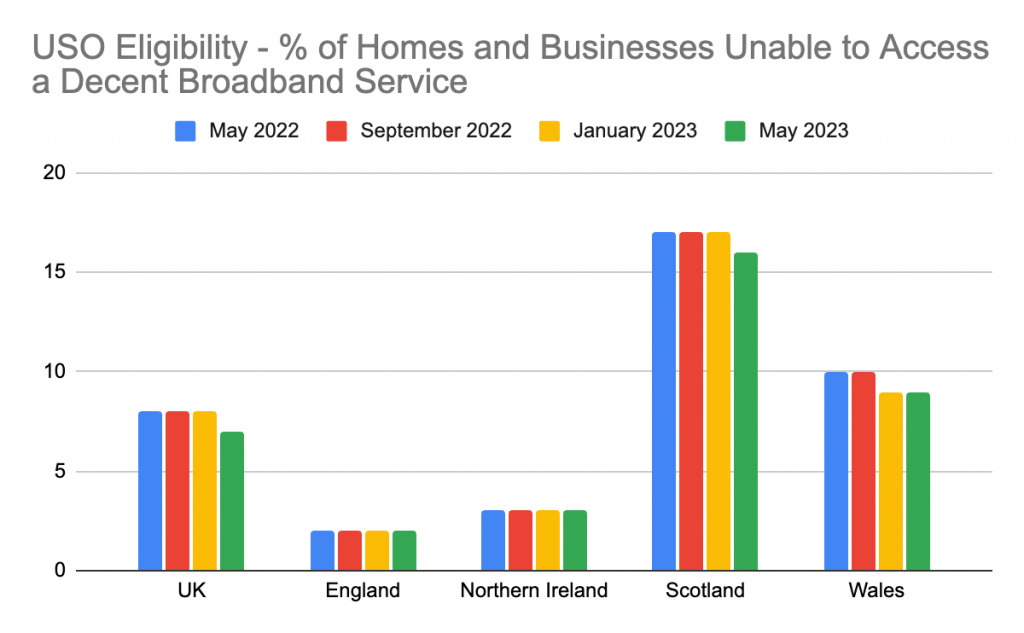 4G Mobile Networks
Geographic coverage of 4G wireless services across mobile network operators (EE, Three, O2, Vodafone) has remained about the same, with a range of 80 to 87%.
Although it's a slow process, these figures will be improved upon by the Shared Rural Network agreement – A £1 billion project to change things for rural users.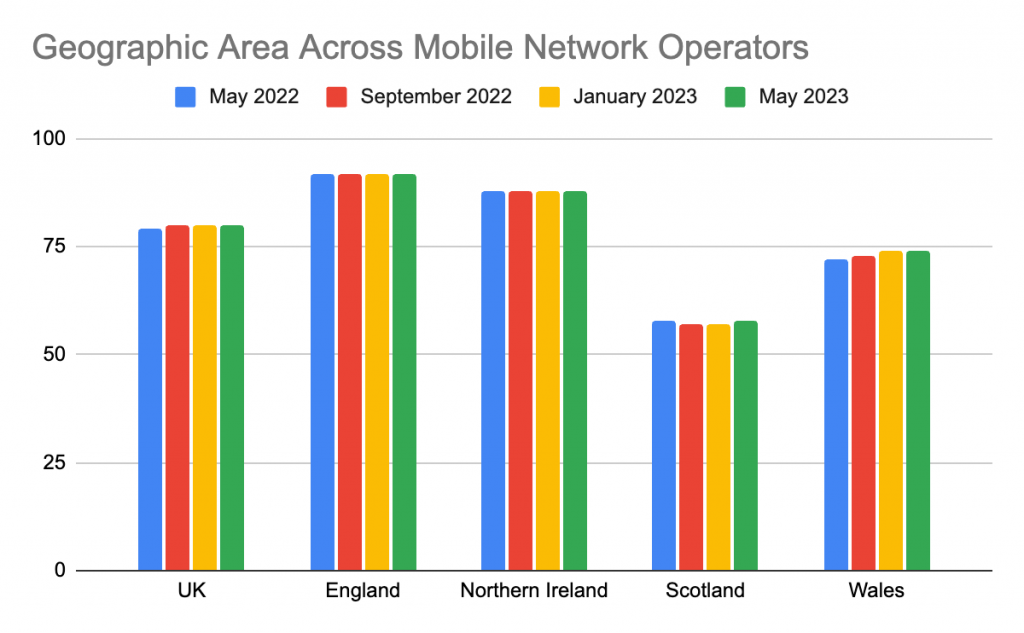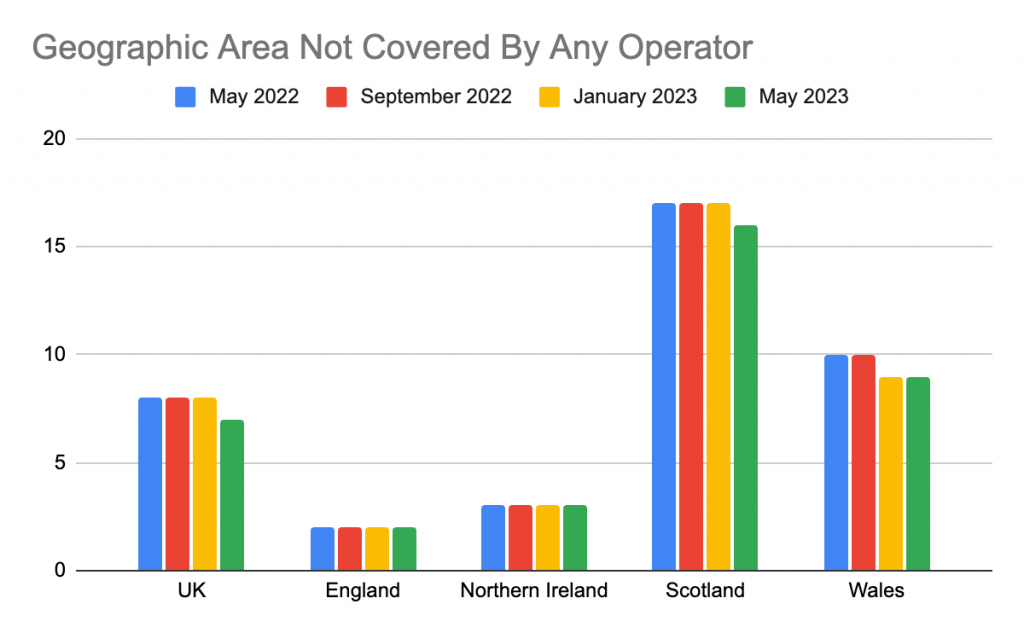 5G Coverage
There's still a way to go when it comes to 5G coverage in the UK. The Ofcom Summer 2023 report shares that 76-85% of UK premises can now get outdoor coverage from at least one operator, however when looking at outdoor coverage by all operators put together it drops to 12-22%.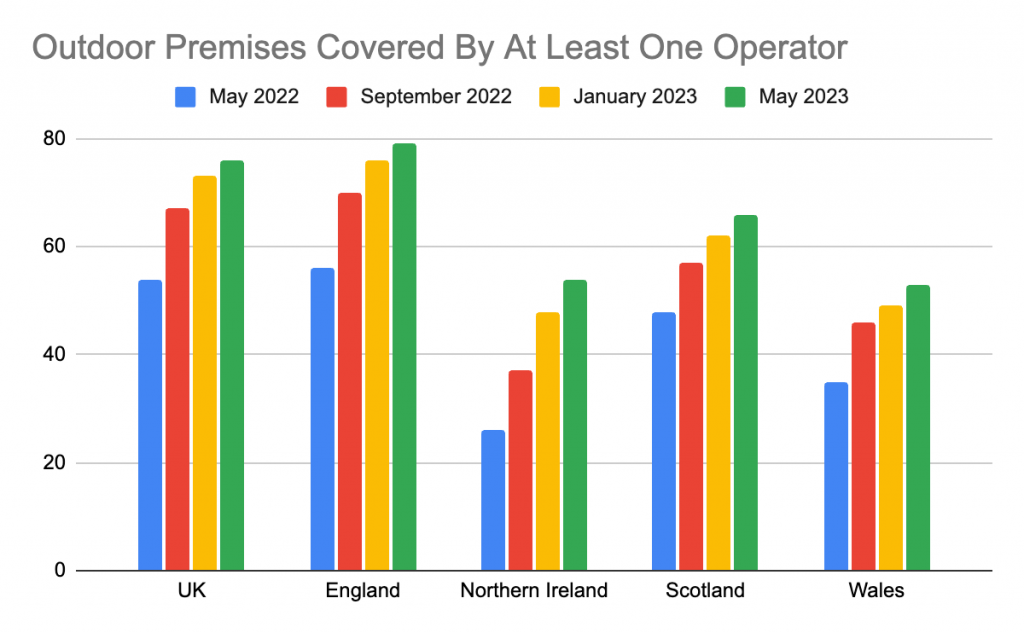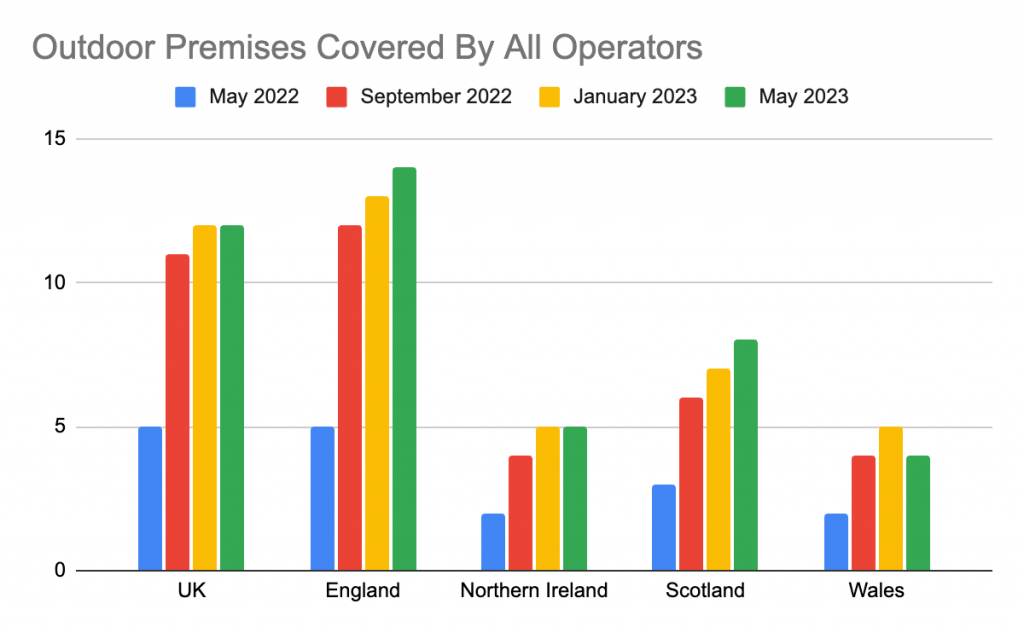 Voice and Text Coverage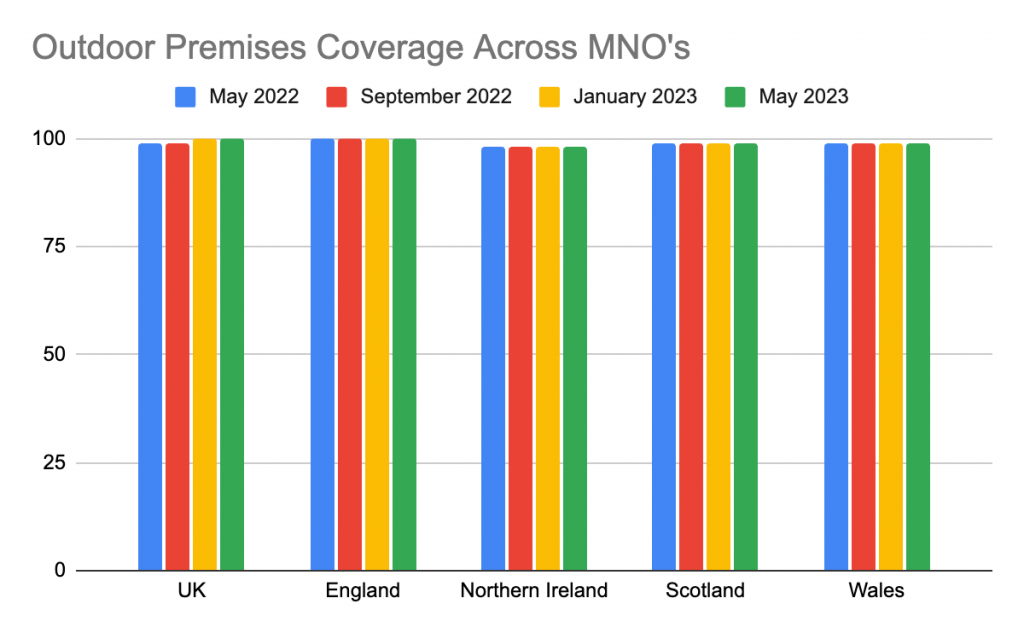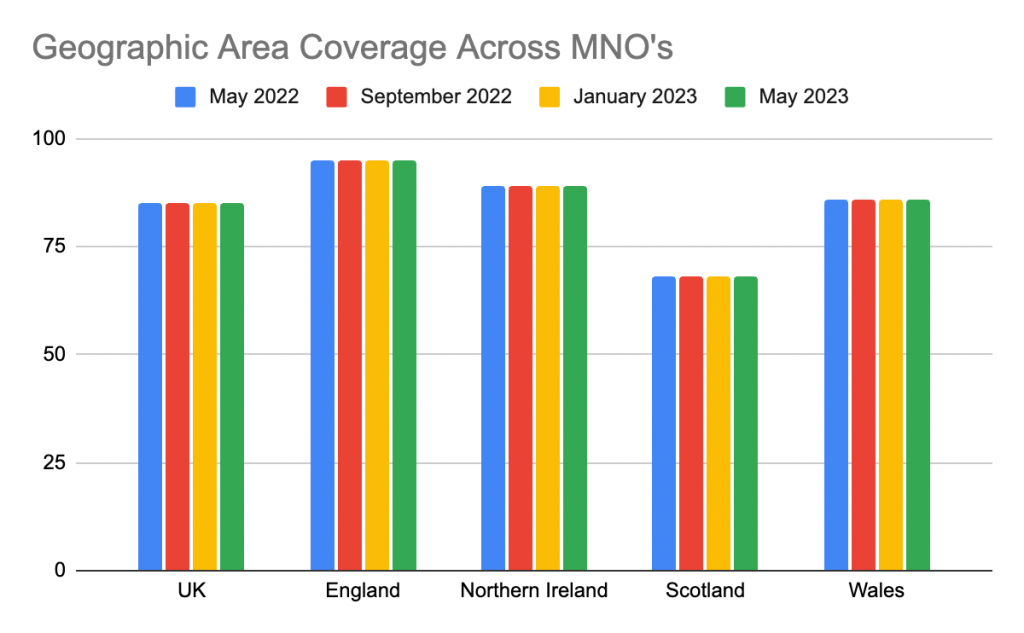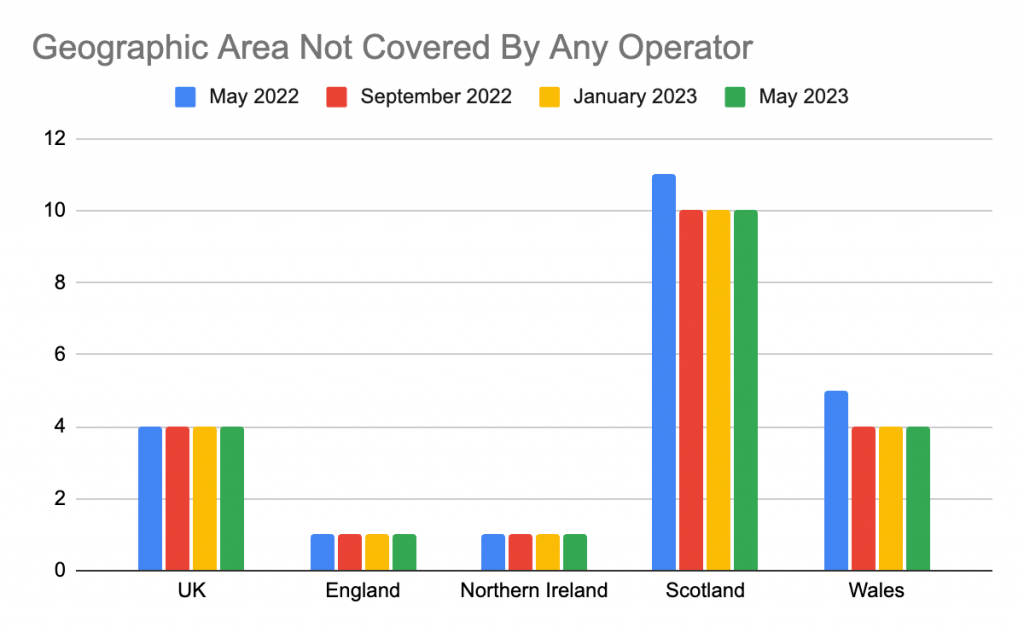 Full Ofcom Summer 2023 Report
We've included a few summaries for your perusal but for more detailed information with all the facts and figures you could ask for, download the PDF of the Summer 2023 Update on Connected Nations via the Ofcom website here.