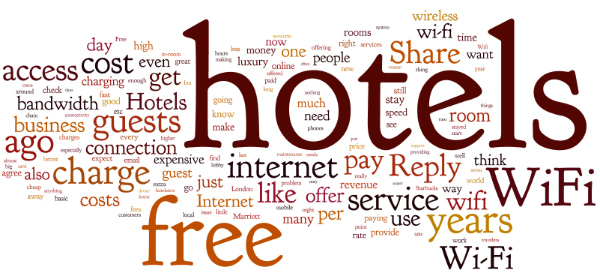 We have all experienced the frustrations of hotel Wi-Fi.  It seems that despite hotel Wi-Fi being an essential these days, it's rare that hotel networks actually work efficiently.
Incorrect channel plans are the main source of interruption and in some ways the easiest to control.  In most cases channels 1, 6 and 11 are appropriate channel plans and work well in most countries.  Difficulties arise when hotels have each adjacent AP connected to the next available channel.  This causes adjacent channel interference whereby your device connects from channel 1 to 2 to 3 and so on as you move around the space.  As previously mentioned, channels 1, 6 and 11 work well in most countries and using these channels appropriately can significantly improve your network.
The other common error is trying to connect to 2.4GHz instead of 5GHz.  As we've discussed in previous blogs 5GHz is the more appropriate bandwidth in most cases, yet hotels still connect to 2.4GHz, which as we know is overcrowded and somewhat of a junk space.  Turning off 2.4GHz will help to reduce this interference.
Access point placement is also crucial to hotel networks and can sometimes be the downfall.  Client devices need to be in clear range of the AP without things like smoke detectors, exit signs or thick walls getting in the way.  Again, this is easily solved by finding the areas where signal is experiencing interference and relocating the AP's to more appropriate areas.  Often hotels can try to do the job cheaply and thereby place AP's in convenient places which turn out to be rather ineffective.  

Those top three hotel Wi-Fi fail are the reason for lots of customer frustration and complaining which could be easily avoided.  If you, or a business you know needs help with hotel Wi-Fi then be sure to put them in touch!