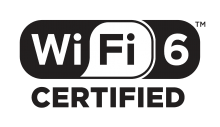 Wondering what all the fuss is about when it comes to Wi-Fi 6? If you're questioning what the differences are and whether it's worth making hardware device changes, then read on.
The next generation of wireless standard is here (actually, it's been here since the end of 2019). Wi-Fi 6, or 802.11ax has the following main differences:
It's faster
It provides better performance in congested areas (think anything from your own device-packed home, to stadiums)
We know it informally as Wi-Fi 6 – Wi-Fi versions have now been assigned simple numbers to replace the more complicated code-like names that we saw before.
What are the Wi-Fi Version Numbers?
The new Wi-Fi version numbers are much more user friendly, but for the fellow geeks among us, here are what the new version numbers correspond to, plus (whilst not being officially branded) what all of the old versions would have been.
Wi-Fi 1 – 802.11b (released in 1999)
Wi-Fi 2 – 802.11a (also released in 1999)
Wi-Fi 3 – 802.11g (released in 2003)
Wi-Fi 4 – 802.11n (released in 2009)
Wi-Fi 5 – 802.11ac (released in 2014)
Wi-Fi 6 – 802.11ax (released in 2019)
You might start to see these newer version numbers appear in software when connecting your smartphone, tablet or laptop, to enable you to see which Wi-Fi networks are newer and faster. This is what the Wi-Fi Alliance announced that they would like to be seeing across networks. It's worth noting that it isn't mandatory for manufacturers to label their products with Wi-Fi 6 instead of 802.11ax, but we're hopeful that most will. Re-naming products from 802.11ac to Wi-Fi 5 might be another matter though!
Wi-Fi That's Faster
As with most technological advances, the latest development in Wi-Fi standard is faster in terms of data transfer speeds. In comparison to Wi-Fi 5, a Wi-Fi 6 router would provide one device with up to 40% higher speeds.
What Makes Wi-Fi 6 Faster?
The reason Wi-Fi 6 can achieve such faster speeds is due to more efficient data coding which thus results in higher throughput. Basically, the radio waves are packed with more data. With each Wi-Fi standard, the ability for the chips to encode and decode the data gets more powerful, hence why Wi-Fi 6 is faster than Wi-Fi 5, and can handle extra work.
You may be aware that we have 2 frequenceis used for networks – 5GHz and 2.4GHz. 5GHz is more commonly used as it is subject to less interference, however 2.4GHz is still a good option for being able to penetrate solid objects. Wi-Fi 6, the new standard, even increases speeds on these 2.4GHz networks.
How Will Wi-Fi 6 Affect the Battery Life on my Device?
Many Wi-Fi 6 enabled devices will have a new 'target wake time' feature. This means that an access point can define a specific set of times when devices connected to the internet need to have access to the wireless network. This new efficiency should mean that your Wi-Fi enables devices should have a longer battery life.
Let's take your smartphone, for example. When the AP is talking to your phone, it can tell it when to put it's Wi-Fi radio to sleep and when to wave it up to receive the next transmission. Because your device can spend more time in sleep mode, you should find your battery lasts longer.
It also means that devices that connect via Wi-Fi with lower power can benefit from longer battery life.
Wi-Fi That Performs Better in Crowded Areas
We know there hasn't been much opportunity for it as late, but picture trying to get online at an airport, hotel or live event at a stadium. When an area is as congested with devices as these, you can suffer with slow Wi-Fi and even struggle to connect.
Wi-Fi 6 tackles just this problem. With new technology, superior to previous Wi-Fi standards, it's purported that Wi-Fi 6 will improve the average speed of each user by at least 4 times. Even in crowded areas with lots of devices.
This isn't just something that will benefit you when out in public places – It could be a huge help in your home as well. If you have a large family all with multiple devices connected to Wi-Fi, then this could be just the solution to stop the slow-down. Or perhaps if you live in a densely populated place, like a block of flats.
How Does Wi-Fi 6 Tackle Congestion from Multiple Devices?
There are various features that help Wi-Fi 6 better tackle the problem of heavily crowded networks. Just knowing that a Wi-Fi 6 device connected to a Wi-Fi 6 access point will work better may well be enough for you!
For those who want all the geeky details, here's what's going on to make Wi-Fi 6 better for networks with multiple or many devices.
Wi-Fi 6 technology is able to create a large number of sub-channels within one wireless channel. Date intended for each individual device can be carried by each sub-channel. This technology is called Orthogonal Frequency Division Multiple Access (OFDMA). Essentially this means that a Wi-Fi 6 enabled access point can talk to more devices at once.
Wi-Fi 6 also has improved MultipleIn/Multiple Out (MIMO). Again, this lets the access point talk to multiple devices at once through multiple antennas. The difference between this and Wi-Fi 5, is that while the latter enabled an access point to talk to multiple devices at the same time, it couldn't allow the devices to respond at the same time, thus slowing things down. The new improved MIMO on Wi-Fi 6 is a multi-user version (MU-MIMO) which enables devices to respond to the access point at the same time.
Let's look at another potential scenario. Wireless access points that are locating close to one another may transmit on the same channel. This means that the radio needs to listen and wait for a clear signal before it can reply. Wi-Fi 6 uses spatial frequency re-use which allows you to configure Wi-Fi 6 wireless access points with different Basic Service Set (BSS) colours, which consists of a number between 0 and 7. The device can then determine whether a particular channel has a weaker signal, and thus ignore it and transmit without waiting. This is another way in which Wi-Fi 6 will improve wireless performance in congested areas.
These are just a couple of the improvements to be seen from the new Wi-Fi 6 standard. There are many more, smaller enhancements which will improve the speed and performance with Wi-Fi 6.
How Do I Know If Something has Wi-Fi 6?
Luckily, thanks to this handy article, you're now familiar with all the technical names of the different Wi-Fi standards, so you'll know exactly what to look for. Right? Don't panic! We're only kidding. Thanks to the new versions, it'll be easy for you to find devices that are certified Wi-Fi 6 (rather than hunting around for 802.11ax!). Device manufacturers are able to say whether their product is Wi-Fi 6 or Wi-Fi 5.
You may also start to see a logo saying 'Wi-Fi 6 Certified' on relevant devices. This means that the product has gone through the Wi-Fi Alliance's certification process. The old Wi-Fi Certified logo simply told you it was Wi-Fi Certified, rather than what generation of Wi-Fi a product was. The new logo will make it clear if it is Wi-Fi 6. So there will be no need for trawling through product specifications!
When Can I Get Wi-Fi 6 Enabled Devices?
The new Wi-Fi 6 standard was finalised in 2019, with hardware being released in the latter part of the same year and into 2020. So you should be seeing Wi-Fi 6 enabled products in the market now. It's shouldn't be something you need to put too much thought into – As new routers, smartphones, tables and laptops are released into the market, they will just start to come with this new Wi-Fi 6 technology.
It's worth remembering that to benefit from the improvements on the new Wi-Fi 6 standard, you need both the sender and receiver devices to support this latest generation of Wi-Fi 6. Whatever the connection, it will only operate in the mode that your device supports. For example, you may have a Wi-Fi 6 enabled router, a Wi-Fi 6 enabled smartphone, but a laptop that only supports Wi-Fi 5. You'll see the advantages of Wi-Fi 6 on your smartphone, but the laptop will only work at Wi-Fi 5 capacity.