Wi-Fi HaLow has quite the list of benefits when it comes to Internet of Things applications. With high bandwidth, long range, unlicensed spectrum, low power, and less complexity than Wi-Fi 5 and Wi-Fi 6, Wi-Fi HaLow could well be a better option. 
What is Wi-Fi HaLow?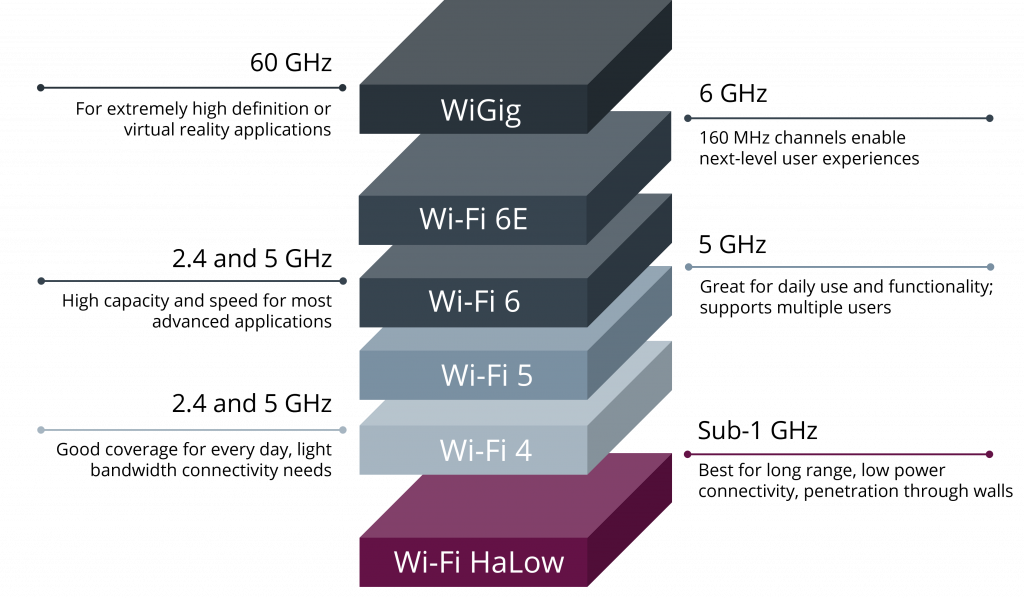 The Wi-Fi Alliance has coined the IEEE 802.11ah Wi-Fi standard as Wi-Fi HaLow, as it will be known in the wireless market. It was approved back in September 2016, and then published in the following May. 
Wi-Fi HaLow is a new version of traditional Wi-Fi, offering:
Long range
Low power
Low speed
Wi-Fi HaLow is most likely to be deployed within the Internet of Things market, on things such as:
Sensors
Wearables
M2M (Machine to Machine) applications
Smart buildings
Smart cities
What are the benefits of Wi-Fi HaLow?
Wi-Fi HaLow has the ability to connect low-bandwidth devices to IP networks, including the internet. It also supports enough bandwidth to handle HD Quality video.
Perhaps one of the great things about Wi-Fi HaLow is its usefulness in rural communications as well as offloading cell phone tower traffic.
Whilst there are similar low-power standards, like 802.11af, there are differences. For example, 802.11af operates in the television white space spectrum in VHF and UHF bands, whereas Wi-Fi HaLow is easier to deploy due to operating in the unlicensed bands.
There are of course similar technologies that utilise the unlicensed spectrum, but Wi-Fi HaLow also has advantages over some of them due to them being built on proprietary standards.
The requirement of getting proprietary hardware in order to get IP connectivity to the client devices also means that some other similar technologies are more complicated to deploy than Wi-Fi HaLow.
HaLow is intended to make deploying IoT devices easier.
Why is Uptake for Wi-Fi HaLow Slow?
Despite the advantages laid out above, the uptake for Wi-Fi HaLow has been pretty slow.
If you have a look on the Product Finder section of the Wi-Fi Alliance's website, you'll find only 3 companies that are listed as having certified Wi-Fi HaLow products.
And if the uptake is so low, it begs the question…
So Why Use Wi-Fi HaLow?
The advantages we talked about above hint at where Wi-Fi HaLow can be used effectively.
Wi-Fi HaLow Utilises Licence-Exempt Frequencies
As you are probably aware, the majority of Wi-Fi technologies, including Wi-Fi 5 and Wi-Fi 6, operate at frequencies in the 2.4 and 5 GHz bands.
The difference with Wi-Fi HaLow is that it utilises licence-exempt frequencies that are below 1 GHz.
Wi-Fi HaLow Has Longer Range
Due to Wi-Fi HaLow having lower frequencies, it also has longer signal ranges. Not only that, but the signal itself penetrates walls and other materials better.
Due to these reasons, Wi-Fi HaLow can travel much further, even managing distances of over half a mile (0.62 miles to be precise).
Wi-Fi HaLow Devices Don't Hog Bandwidth and Need Less Power
Wi-Fi HaLow devices can use lower power radios as they're not hogging bandwidth with high performance. In other words, the devices wireless connectivity uses very little power which in turn means that they have a long battery life. Some devices can even last more than 5 years!
Got devices on the network that need more throughput? With Wi-Fi HaLow you can give hundreds (if not thousands) of IoT wireless devices their own band to operate in – Enabling you to reserve the higher bands for those higher throughput devices. This could in turn have a positive impact on your overall network performance.
In this way, Wi-Fi HaLow compliments traditional Wi-Fi very well by enabling your network engineers to move lower bandwidth clients off the main Wi-Fi network.
Depending on the AP capabilities and client-device specifications, Wi-Fi HaLow can still provide enough throughput for HD-quality video cameras in some scenarios, despite being designed for lower bandwidth applications.
Do We Have the Infrastructure for Wi-Fi HaLow?
In short, yes! It's pretty straightforward to get going with Wi-Fi HaLow.
Whereas other similar technologies require proprietary controllers, hubs or gateways, Wi-Fi HaLow doesn't need any of this.
It's as simple as plugging a HaLow Ap into a traditional LAN and clients can connect to IP-based networks including the internet.
Alternatively, they could choose a gateway device with 4G LTE connectivity to the WAN.
Does traditional Wi-Fi support HaLow?
Currently, the HaLow band is not supported by traditional Wi-Fi like 2.4 GHz and 5 GHz.
But, due to the longer range of HaLow, an AP deployed in the right location could mean signal coverage for an entire multi-floor office building or warehouse.
Of course, that would also depend on:
Desired data rates for clients
Transmit powers
Antennas
Interference
To take the signal even further, without using a wired connection, you can also deploy Wi-Fi HaLow in a wireless-mesh mode.
What are the Data Rates like for Wi-Fi HaLow?
Bandwidth can be increased via channel-width options on Wi-Fi HaLow devices just like traditional Wi-Fi. Between 1MHz and 16MHz there are 5 channel widths, but not all devices support all the widths.
When we talk about channels, the transmissions travel further the narrower the channel is, but at a slower data rate.
For example, for a long range over the course of 1km on just 1MHz channel, with a bit of RF attenuation, you would see a data rate of approximately 150 kbps.
With a shorter range and/ or a line of sight, you could in theory get 86.7 Mbps with 16 MHz channels and short guard intervals.
One trial carried out at sea with no radio interference achieved 2 Mbps of UDP throughput at 3 km with line of sight. With this in mind, with ideal conditions could expect a data rate of a few Mbps for approximately 1.5 km range.
How is Wi-Fi HaLow Affected by Interference?
Wi-Fi HaLow aren't not the only unlicensed users and devices on the 900 MHz band. Historically, this band was rather crowded with cordless phones as well as amateur radio operators, although whilst they have the right to use the band they are not the primary users of the band and hence have to accept interference from other sources.
Interference when using Wi-Fi HaLow is unlikely to cause significant issues in comparison to how many Wi-Fi 5 and Wi-Fi 6 devices are using the 2.4 GHz and 5 GHz bands.
The competition for airtime is also a lesser concern because unlike traditional Wi-Fi devices, HaLow devices tend to deliver smaller amounts of data and less frequently.
Is Wi-Fi HaLow Secure?
Wi-Fi HaLow is just as secure as traditional Wi-Fi devices due to supporting the same WPA3 (Wi-Fi Protected Access) security and Wi-Fi Enhanced Open functionality.
Some devices may also support the enterprise mode of WPA3 with 802.1X authentication. Some HaLow devices may also support the legacy WPA2 security even though it isn't required for Wi-Fi Certified products.
Is HaLow ready for enterprise deployments?
Despite there being few Wi-Fi Halow devices on the market just yet, reports are saying that they are ready for enterprise deployments now.
Our recommendation, as with any Wi-Fi network, is to carry out a Site Survey before designing and deploying a Wi-Fi HaLow network.
For many network engineers, this is a new and unfamiliar technology so it's imperative you do plenty of live testing and analysing to make sure the network will work effectively. This is especially important if you are going to be using Wi-Fi HaLow to serve higher bandwidth clients or over long distances.